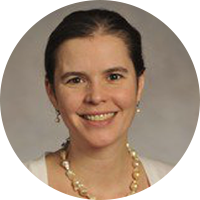 "It's a great program! You get unparalleled access to the leaders of Duke Health."        
Blair Irwin, MD, MBA (MLPR '13)
Assistant Director of Oncology
Multicare Regional Cancer Center
Seattle, WA
Each MLPR trainee is assigned to a mentor—a leader within Duke Health who provides guidance, resources, connections, context, ongoing feedback and advice.  Mentors assist the resident with navigating the Duke system, identifying professional opportunities and selecting a longitudinal project that is of high-interest to both Duke Health and the trainee.  
Past MLPR mentors have included (* indicates MLPR alum):
John Anderson, Jr., MD, MPH - Chief Medical Officer, Duke Primary Care
Jonathan Bae, MD - Associate Chief Medical Officer for Clinical Quality and Patient Safety, DUHS
George Cheely, MD, MBA - Medical Director for Care Redesign, DUHS
Jeff Ferranti, MD, MS - Chief Information Officer, DUHS
William J. Fulkerson, Jr., MD, MBA - Executive Vice President, DUHS
Azalea Kim, MD, MBA, MPA* - Medical Director, Applied Health Data Science & Strategy, Duke Forge
Mary Klotman, MD - Dean, Duke University School of Medicine
Eugenie Komives, MD - Senior Medical Director, Duke Population Health Management Office
Thomas Owens, MD - President, Duke University Hospital and Senior Vice President, DUHS
Theodore Pappas, MD - Vice Dean for Medical Affairs, Duke School of Medicine
Lisa Pickett, MD - Chief Medical Officer, Duke University Hospital
Eric Poon, MD, MPH - Chief Health Information Officer, DUHS
Adia Ross, MD, MHA* - Medical Director, Duke Raleigh Hospital Medicine Program
Devdutta Sangvai, MD, MBA - Associate Chief Medical Officer, DUHS and Executive Director, Duke Population Health Management Office 
Kevin Shah, MD, MBA* – Associate Chief Medical Officer, Duke Primary Care 
Krishna Udayakumar, MD, MBA - Director, Duke Global Health Innovation Center
John Yeatts, MD* - Value-Based Payer Relations, DUHS
David Zaas, MD, MBA - President, Duke Raleigh Hospital